Datto's IPO (initial public offering) commenced today. $MSP shares opened at $32, up 18.5 percent from the IPO price of $27. Things settled down a bit from there, and Datto's stock rose 6 percent overall during the first day of trading.
Here are 11 things for managed IT service provide (MSP) partners, customers and curious investors to know about Datto's IPO, according to Datto's updated Form S-1 SEC filing and various financial reports.
Related Interview: Datto CEO Tim Weller's Post-IPO Message to MSPs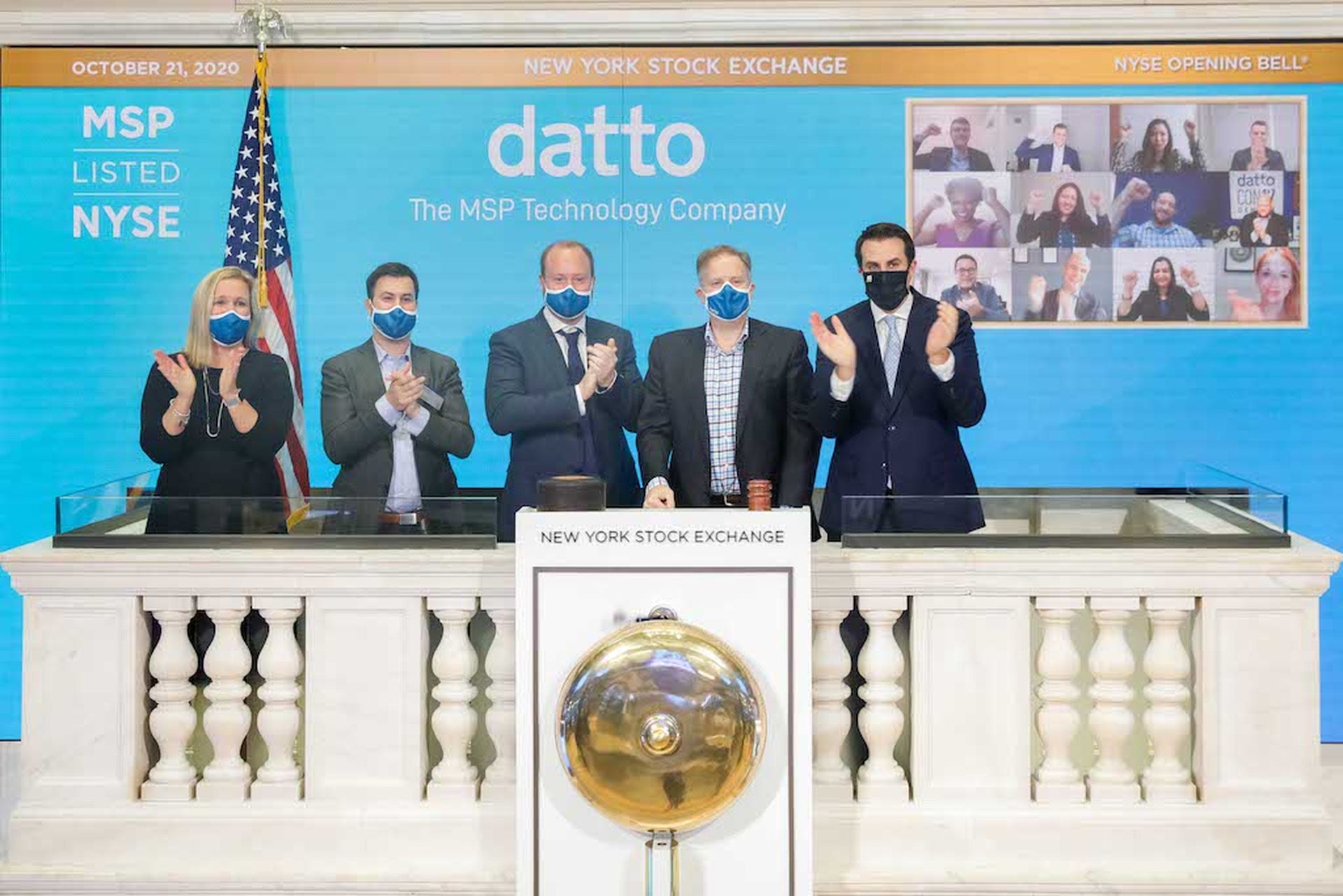 Plus, the implications for MSPs that leverage Datto's RMM (remote monitoring and management), PSA (professional services automation), cloud-to-cloud SaaS backup, cloud-managed networks and more.
Note: Story originally posted September 29, 2020. Updated regularly thereafter with new or evolving information.
1. Ticker Symbol, Target Price and Date: $MSP at a proposed maximum offering of $27 per share. IPO date was October 21, 2020.
2. Note to MSPs: In the filing, CEO Tim Weller offered this note to MSP partners...
"Thank you for the years of trusted partnership. You shined as heroes helping your end users move quickly to remote work and supporting front-line workers in healthcare and public safety. The legacy of this pandemic will be accelerated digital transformation for your customers and opportunities for you with new prospects. This is your time. Please know that being a public company will not change Datto's core. We are excited to expand our investor base and champion the MSP ecosystem. Our MSP-first culture is deeply rooted—in technology innovation through your eyes, in our shared recurring revenue business models designed for you to capture profitable growth and build the value of your business, and in our 24x7 direct-to-human support as an extension of your team. We will continue to engage in the community, listen closely to your product feedback and needs, and be in it with you for the long-term. Our success depends on your success."
Weller's letter also thanked Datto Founder Austin McChord, the company's nearly 1,600 employees, competitors and vendors that partner with Datto, SMBs, and potential public investors. Weller succeeded McChord in 2019.
3. Target Market: Datto currently serves 17,000 MSPs, and says...
"MSPs represent the future of IT management for SMBs. Digital transformation is driving SMB adoption of modern software and technology, while regulatory and data protection requirements and proliferating security threats are increasing the complexity and risk of IT for SMBs. These trends have created an inflection point in SMB adoption of MSPs for IT management. MSPs are equipped with the IT resources and expertise SMBs lack, providing a single source to meet all of an SMB's IT needs. MSPs are trusted to select, procure, implement and manage software and technology stacks that support their SMB customers' business needs. The number of MSPs continues to grow, with approximately 125,000 MSPs providing this critical function to millions of SMBs worldwide today."
ChannelE2E Side Note: The 125,000 MSP figure likely includes MSSPs and IT solutions providers, ChannelE2E believes. The overall managed services market continues to grow as more and more VARs and IT consulting firms worldwide ultimately transition to managed services and recurring revenues. The COVID-19 pandemic, by the way, is likely accelerating that transition toward MSP services since SMBs need remote IT support for home networks and remote workers, ChannelE2E asserts.
4. Datto Revenue: $249 million for the six months ended June 30, 2020, up from $214 million for the six months ended June 30, 2019.
ChannelE2E Side Note: The growth is particularly impressive, ChannelE2E believes, considering the 2020 figures include the COVID-19 pandemic -- which pressured SMB customers in late Q1 through at least early Q2 2020.
5. Datto Net Income: $10.1 million for the six months ended June 30, 2020, a vast improvement from a $25.7 million net loss for the six months ended June 30, 2019.
6. Datto EBITDA: For the first half of 2020, Datto's adjusted EBITDA was $63.9 million.
7. Key Datto Rivals: The company mentions such rivals by name as...
ChannelE2E Side Notes:
8. Biggest, Deepest MSP Partners: Roughly 1,000 MSPs each generate more than $100,000 in annual recurring revenue (ARR) for Datto.
9. Core Product Areas: For those who aren't familiar with Datto, the company specializes in Unified Continuity, Business Management, Networking and Risk Mitigation technologies that are either (A) sold to MSPs or (B) sold through MSPs to small business customers, and then managed by those MSPs.
10. Datto's IPO Financial Goal: The net raise seeks about $549.5 million. Datto will use the IPO to repay outstanding borrowings under its term loan and revolving credit facilities. The company's expected valuation is about $4 billion.
11. Private Equity & Boardroom Update: Private equity firm Vista Equity Partners will maintain a majority stake in Datto. Boardroom updates, according to the October 19 SEC filing, include:
Vista's Maneet S. Saroya will become chairman of Datto after the IPO.
Vista co-founder Brian Sheth is stepping down from Datto's board (he's also apparently leaving the private equity firm).
Vista COO David Breach will join the board.
Also of note: Both Datto CEO Tim Weller and founder Austin McChord also remain on the board.
Side note: Sheth's apparent departure from Vista comes after Vista CEO Robert Smith recently settled a tax case with the Justice Department.