Hurricane Florence is expected to be a Category 2 storm when it potentially slams into the U.S. east coast on Thursday, September 13, according to the latest forecasts.
Among the potential complications: The storm may stall over North Carolina, dumping far more than a foot of rain in multiple areas. ChannelE2E's ongoing coverage includes:
Hurricane Florence: Forecasted Storm Path
The predicted storm path, below, is current as of 10:40 a.m. ET on Thursday, September 13.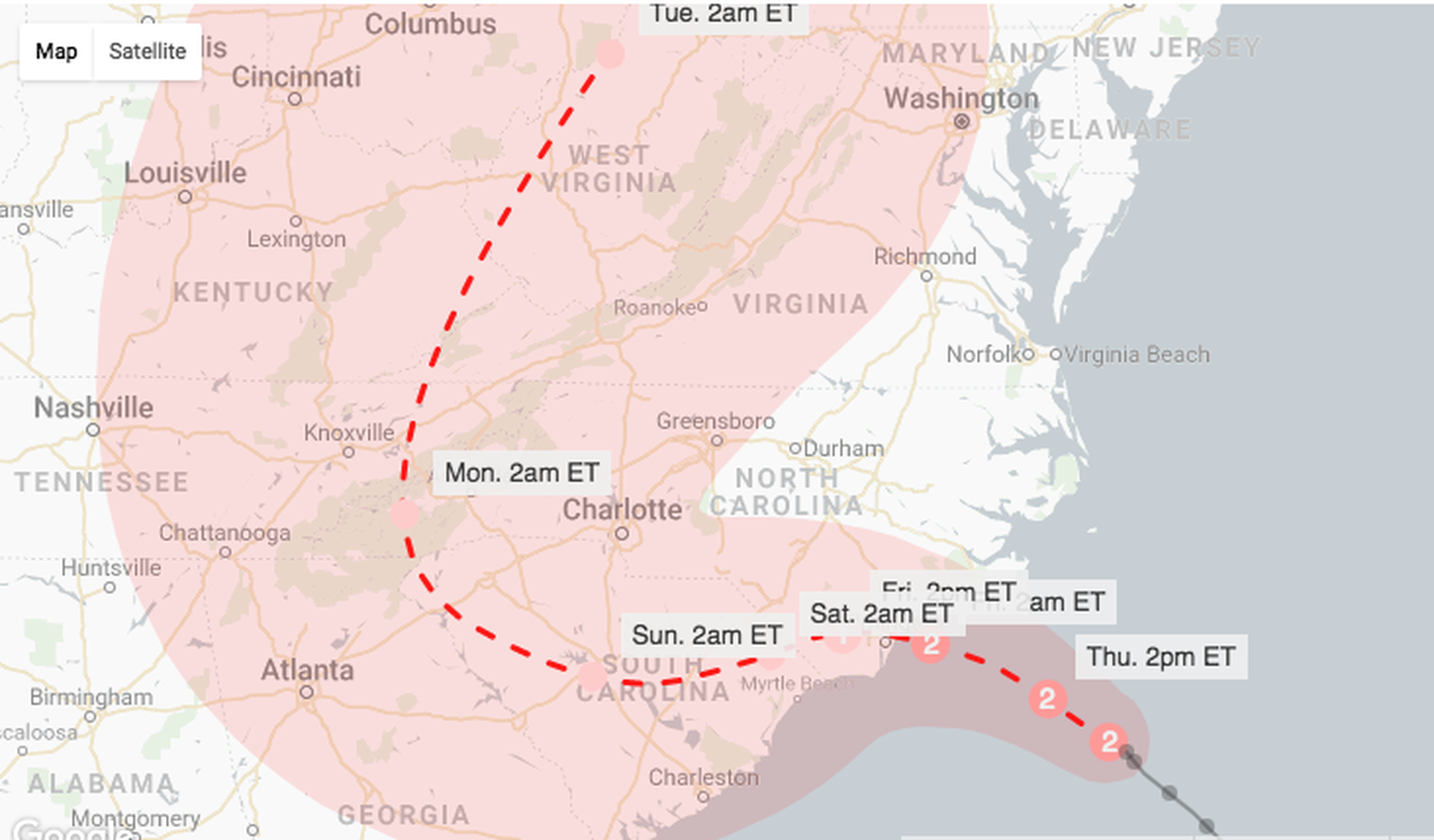 Hurricane Florence: Business Continuity, Disaster Recovery Preparations
MSPs and IT services providers in the storm path, particularly North Carolina, are activating business continuity plans ahead of Hurricane Florence. The proactive, protective measures include backing up data to the cloud; testing restore services; reviewing staff and customer contact lists; and testing virtual systems in the cloud in case on-premises systems lose power or are destroyed in the storm.
According to Coastal Living, a Category 4 hurricane definition is:
"Winds range from 96 to 110 mph and can be expected to produce extensive property damage. Greater wind velocities mean that debris poses a greater threat to humans and animals, while the roofing, siding, and glass windows (protected and unprotected) of frame homes are more vulnerable to damage. In a Category 2 storm, significant structural damage to apartment buildings, mobile homes, and shopping centers is also expected, as well as flooding in low-lying areas. Extensive power outages ranging from a few days to a few weeks are common, and residents are encouraged to stock up on potable water as filtration systems also fail during this time."
ChannelE2E is in touch with multiple IT service providers & MSPs in Hurricane Florence's predicted path. Special thanks to Ulistic, an MSP-centric marketing services firm, for contacts in the area.
Hurricane Florence: Latest Updates
Among the details so far:
Thursday, Sept. 13, 10:40 a.m. ET: The Carolina coasts can expect winds topping 80 mph late Thursday afternoon, CNN reports.
Tuesday, September 11, 12:30 p.m. ET: More than than 1 million people face mandatory evacuation orders Tuesday in coastal areas of Virginia, North Carolina and South Carolina, according to CNN. Damage costs could top $27 billion, Bloomberg reports.
Monday, September 10, 6:30 p.m. ET: The entire South Carolina Coastline now faces mandatory evacuations. Schools will be closed starting Tuesday in the affected counties and state officials will reverse lanes on four major roads leading to the coast to assist with the evacuation, NBC reported.

Monday, September 10, 4:30 p.m. ET:MSPs and IT solutions providers across the region have checked in with their staff members and clientele to review storm preparations. Key players in the region include
Monday, September 10, 2:00 p.m. ET: North Carolina's government has declared a state of emergency, clearing the way for the Nation Guard to assist with storm preparations. North Carolina has experienced only one Category 4 hurricane in the past 120 years or so, Bloomberg Radio reports.
Monday, September 10, noon ET: The National Weather Service at noon ET upgraded Florence to a Category 4 storm, meaning it is capable of creating "catastrophic" damage. Florence now has maximum sustained winds of 130 mph, CNN reported.Further strengthening is expected, as Florence moves toward North and South Carolina, where it could unleash its fury as the most powerful storm to hit the region in three decades, the report says. Source: CNN.
Monday, September 10, 6:13 a.m. ET: Forecasters said it is too early to know the exact path Florence will take but warned that it could roll ashore in the Carolinas by Thursday. But authorities were taking no chances as the governors of North and South Carolina and Virginia declared states of emergency far ahead of the approaching storm. Source: CBS News.
Monday, September 10, 5:00 a.m. ET: Florence was centered about 625 miles southeast of Bermuda, moving west at 9 mph. Its maximum sustained winds were at 105 mph. Drawing energy from the warm water, it could be a fearsome Category 4 with winds of 130 mph or more by Tuesday. Source: CBS News.
Hurricane Florence: Ongoing Updates
Check this blog regularly for multiple daily updates ahead of, during and after Hurricane Florence's arrival.