VMware's Multi-Cloud Management Platform Strategy
How can IT service providers manage multiple clouds and workloads for customers? VMware Cloud Management Platform is one option. Here's the strategy.
Unlike businesses born in the digital or Amazon age, most traditional businesses are not planning to go all in on public cloud. Rather, many are planning to take a hybrid cloud approach, whereby some business workloads will be shifted into the public cloud, while other workloads will remain on-premises. The hope is that in doing so, businesses will save money by leveraging the economies of scale of public cloud infrastructure resources and regain focus on what they're good at so they can be more competitive. Sounds great, but it's easier said than done.
One of the linchpins to making hybrid cloud work is having the necessary tools in place to allow application workloads to be centrally managed regardless of where they live. This means having the ability to support traditional virtualized client/server workloads in tandem with next generation cloud applications, based on open source technologies like OpenStack and Docker containers, and managing them all across multiple clouds.
Application developers, for example, may want to utilize AWS and Google for certain development workloads and Microsoft Azure for others. Or they may be considering vendors like Blue Box, Mirantis, Red Hat or Rackspace to host their OpenStack development and test environment.
Likewise, IT managers from the same organization may be considering cloud service providers like IBM SoftLayer, Verizon, Century Link, Rackspace or CSC to host a privately hosted vCloud Air environment.
The point is most IT decision makers we speak with are pretty adamant about the need to leverage multiple cloud service providers to meet a variety of business use cases. The question becomes how can they centrally manage multi-cloud workloads while ensuring they remain secure, adhere to compliance mandates, perform optimally and are easy to manage?
VMware Cloud Management Platform & vRealize Suite
VMware recently announced some new updates to their Cloud Management Platform (CMP), at the core of which is the vRealize Suite, that provide businesses with a way to address many of the challenges with managing diverse application workloads across multi cloud environments. VMware CEO Pat Gelsinger discussed how there is a need to bridge the gap between legacy client-server application infrastructure and next generation cloud native application environments. VMware's CMP is intended to be the operational nerve center to help bridge that gap. According to Gelsinger, security is architected into every layer and the fundamental design principle is to "ruthlessly" automate every aspect of infrastructure and application deployment, while ensuing data governance, compliance and ease of management.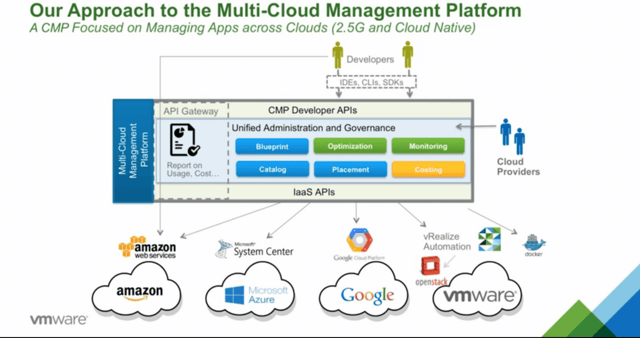 VMware is positioning their CMP offering as a solution that can help IT organizations transform their operations from managed pools of on-premise virtualized computing resources to the DevOps promised land where infrastructure elasticity, self-service provisioning, metering and chargeback and full automation abounds across private and multiple cloud environments.
That messaging could resonate with many IT organizations as only 20% of respondents to ESG's recent Hybrid Cloud research survey indicated they had a fully mature private cloud with IT-as-a-Service capabilities. Moreover 85% of these same respondents indicated that the foundation for their private cloud environment would be based on commercial cloud infrastructure software from vendors like VMware, as opposed to open source solutions (14%).
Customer and Partner Choice
Still, vendor lock-in remains a persistent concern for many organizations so VMware will obviously have some work to do to convince their customers to adopt a VMware-centric cloud management approach.
Moreover, cloud management frameworks like HPE's Helion platform, IBM's Cloud Orchestrator, Dell's Cloud Manager and a bevy of offerings from technology upstarts, could provide stiff competition in this hybrid cloud management land grab.
Return Home